News
Internationally Acclaimed Hip Hop Star Nocturnal Releases His Debut Album "Breathin Fire" After a Career Spanning Two Decades of Success!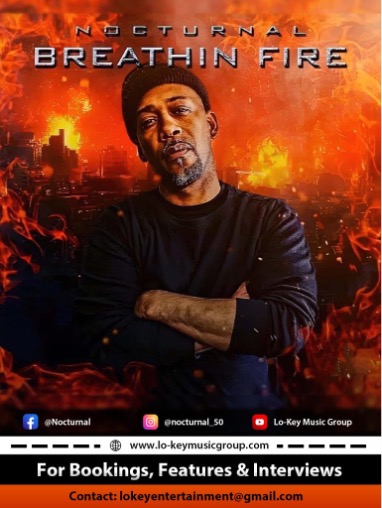 When the night kicks in and the basic "humans" struggle to see the light, that's when he appears, seeing clearly like an owl and activating his senses to dominate his surroundings; Nocturnal is the artist on feature today! Based out of Brick City, he started his career way back in 1992, when he began recording immediately after graduating from Newark Tech High School. As a rapper, he developed a distinctive style that was inspired by the music of the 80s and early 90s, which is why when you listen to his craft, you can't help but feel transported back to some golden era when real rap music abounded. If any of you had lost faith in real hip-hop music, then Nocturnal is here again to reignite that passion because he's got all the trademarks of a conscious street rapper!
His debut album, "Breathin Fire," is already on heavy rotation everywhere and a collection that any loyal hip-hop head should definitely get to experience. Nocturnal goes all out to give the performance of a lifetime; highlighting his raw talent, charisma, and the deserved acclaim he has received over the years he has been in the rap game.
From the onset, "Breathin Fire" has incandescent cover art that is really eye-catching, with the collection highlighting Nocturnal's ability to seamlessly blend nostalgic melodies with intense lyricism. The production is of a high standard, giving this album enough clarity and punch to really let the audience resonate with every nuance of that top-notch quality!

Nocturnal's performance in all 10 tracks is 5-star; it is diverse and spontaneous, reminding a listener what passion should really be about when it comes to authentic rap music. Guest appearances by Money Zoe, Ib Da Druid, Billy Danze, Power Black, and R.O.B.B. round out the album's dynamic appeal and intriguing luxury.
You might be forgiven for thinking you tripped on some A Tribe Called Quest record on "I Said" but this is all the ingenious work of Nocturnal, who attacks the old-school inspired beats with some clever punchlines and without breaking a sweat.
In "No Sauce," Nocturnal goes on and on, unleashing some thought-inspiring bars over the introspective beats in a way that cannot be matched by anyone else. He easily reminds anyone who doubts that this is his favorite stomping ground by dropping strong bars for days.
I am still yet to get over that performance in "Body Bag Zip'em." With the way Nocturnal delivers justice over the beats, I feel it's time they drafted him on DC's next "Justice League" chapter…He truly deserves a superhero mention!
The whole collection is just epic, and I honestly found it extremely hard to choose just one favorite. This is the kind of album that ages like fine wine; such an impeccable distillation of impeccable artistry is on display!
To elevate your playlist with some authentic rap music; follow the attached link to stream "Breathin Fire" in its entirety, and while you're at it, make sure you share it with other hip-hop music devotees... I am more than certain they will appreciate such first-rate lyricism atop old-school melodies!
Catch Up With Nocturnal on:
---
‹ Back